As with most of your purchases nowadays, mattress shopping predominantly happens online. And it can be an adventure sifting through the endless array of companies and beds on offer, trying to determine which mattresses are genuinely cream of the crop. Not to mention, how will you know how the bed feels? Is it going to be comfortable?
Fortunately, we take mattress shopping seriously. Our team of experts has decades of combined experience testing and researching over a thousand different mattresses. We've even built custom beds on knowing exactly what goes on behind the curtain. Our thing is matching shoppers to the best mattress for their needs, preferences, and individual profile. So allow us to remove the guesswork from your search and help you find the perfect mattress.
Cut to The Chase – What's The Best Mattress of 2023?
Our top pick strikes the perfect balance across our testing criteria, and the broadest swath of sleepers universally enjoys it. So if you prefer to follow our expertise and don't need to know the specifics, start your path to better sleep with the Helix Midnight.
However, there is no one-size-fits-all when it comes to your mattress. So our selections below are whittled down to showcase our favorites in specific categories based on their performance, construction, and value.
Best Mattresses – Our Top Picks
Determining the best mattress is based partly on what you, the buyer, wants in your purchase. Some need a bed with great pressure point relief, others require a mattress that helps alleviate persistent back pain. In order to personalize our recommendations to fit your profile, we use a battery of tests and technologies, combined with real experiences from a diverse group of sleepers.
After compiling this quantitative feedback, our testing team conducts qualitative, panel discussions to evaluate how each mattress feels and performs across an array of body shapes and needs. For more information about our mattress testing process, jump down to our methodology section below.
And don't forget to keep scrolling to see more in-depth information on each bed, any current discounts, and find our full review.
Our guide kicks off with detailed information about our picks for the best mattresses of 2022 and then, for those who want to get into the ins-and-outs of the mattress buying process, covers the key topics that a savvy mattress shopper should be aware of. Let's get started. You can also check out our guides to the Best Pillows and Best Sheets for more tips on optimizing your sleep environment.
The Helix Midnight mattress is an excellent choice for those looking for a supportive and comfortable sleep experience. This mattress is designed with a combination of foam and pocket coils that provide the perfect balance of comfort and support. It also has a cooling layer to help regulate body temperature during sleep. It features a breathable cover and is CertiPUR-US certified, so you can rest assured that this mattress is free from harmful chemicals and made with quality materials. For an even more luxurious sleep experience, the Helix Midnight mattress can be upgraded with a pillow top for extra plushness. With its combination of comfort and support, the Helix Midnight mattress will surely provide you with a great night's sleep.
Pros 
Helix Midnight mattress is designed with a unique combination of materials that provide superior breathability and comfort.  
The mattress is supportive and contours your body for an optimal sleeping experience.  
It offers excellent motion isolation, making it ideal for couples. 
The mattress is designed to reduce pressure points, ensuring restful sleep.  
Cons
The mattress is more expensive than other mattresses.  
It may be too firm for some sleepers.  
The mattress may take time to adjust to your body shape and size.
Price range: $749
DreamCloud Mattress
DreamCloud Mattress offers unparalleled comfort and luxury for a good night's sleep. This mattress features a patented memory foam hybrid and provides the perfect balance of plush and firm support. With its soft cashmere blend cover, DreamCloud ensures a peaceful, restful sleep that leaves you feeling refreshed and energized. Wake up to true comfort and experience the dreamy sleep of DreamCloud Mattress.
Pros
DreamCloud Mattress provides excellent comfort and support.
The mattress is also breathable and temperature-regulating, helping to keep the user comfortable all night long.
It is also made to be durable and is backed by a lifetime warranty.
Cons
The mattress is expensive, making it out of reach for some people.
It is quite heavy, making it difficult to move or transport.
The mattress may not be suitable for some people who suffer from certain allergies or sensitivities due to memory foam and gel-infused foam.
Range price: $1,114
Nectar Mattress
Sleep soundly and wake up refreshed on a Nectar Mattress. This luxurious mattress offers superior comfort and support for unbeatable rest. With a contouring memory foam top layer and breathable cooling technology, it's designed to give you the perfect night's sleep. Plus, it has a forever warranty and a 365-night sleep trial, so you can rest easy knowing you'll love your Nectar Mattress. Sleep like royalty on the ultimate comfort and support of a Nectar Mattress. Enjoy superior rest with its contouring memory foam, cooling technology, and a forever warranty.
Pros
Nectar Mattress provides a 365-night home trial, allowing customers to fully experience the mattress in their homes to see if it is a good fit.
Nectar Mattress combines high-density memory foam and cooling gel, providing support and comfort while still keeping you cool.
Nectar Mattress has a lifetime warranty, ensuring you will never have to worry about purchasing a new mattress.
Cons
The Nectar Mattress is only available in a single firmness, which may not be suitable for all types of sleepers.
Nectar Mattress is a bit expensive compared to other mattresses on the market.
Nectar Mattress is only available online, so customers do not have the opportunity to try it out in person before purchasing.
Range price: $699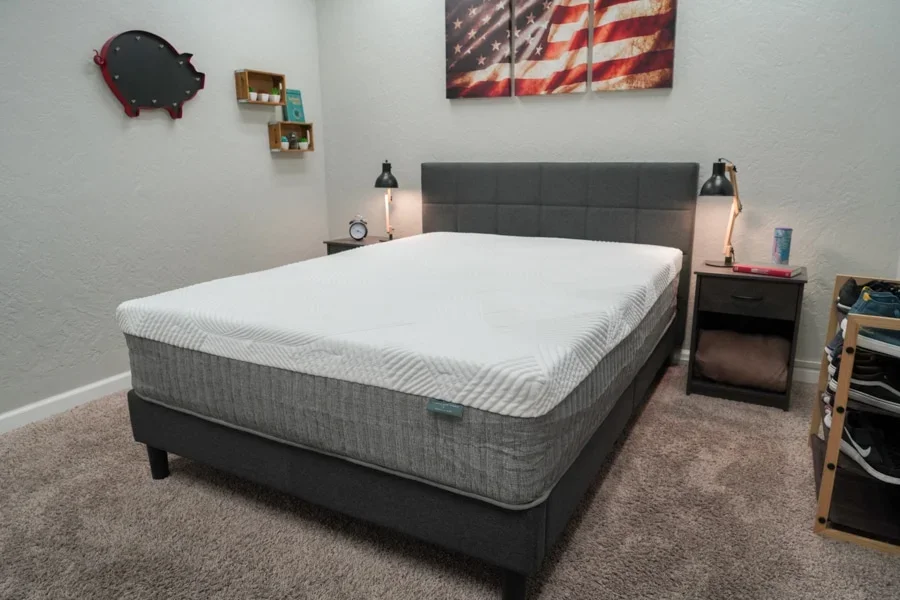 The Cypress mattress from Brentwood Home has a lot going for it, including two different heights and comfort ratings, an 11" medium-firm mattress, and a softer 13" medium-feel mattress. This mattress features eco-friendly, natural BioFoam and is Greenguard certified, one of the strictest emissions standards. Although its most recent design no longer includes the bamboo cover, its inclusion of state-of-the-art BioFoam is the reason it remains on our list. This soft material is infused with charcoal to cool, absorb moisture and relieve pressure. With foam versions and a hybrid option with pocketed coils, these mattresses offer exceptional value for eco-friendly materials.
Pros
BioFoam layers, with their exceptional Greenguard certification, make it a top-notch find at an attractive price.
Cons
There may be some better-value unnatural foam mattresses for open-minded shoppers.
Price range: $579 – $1499.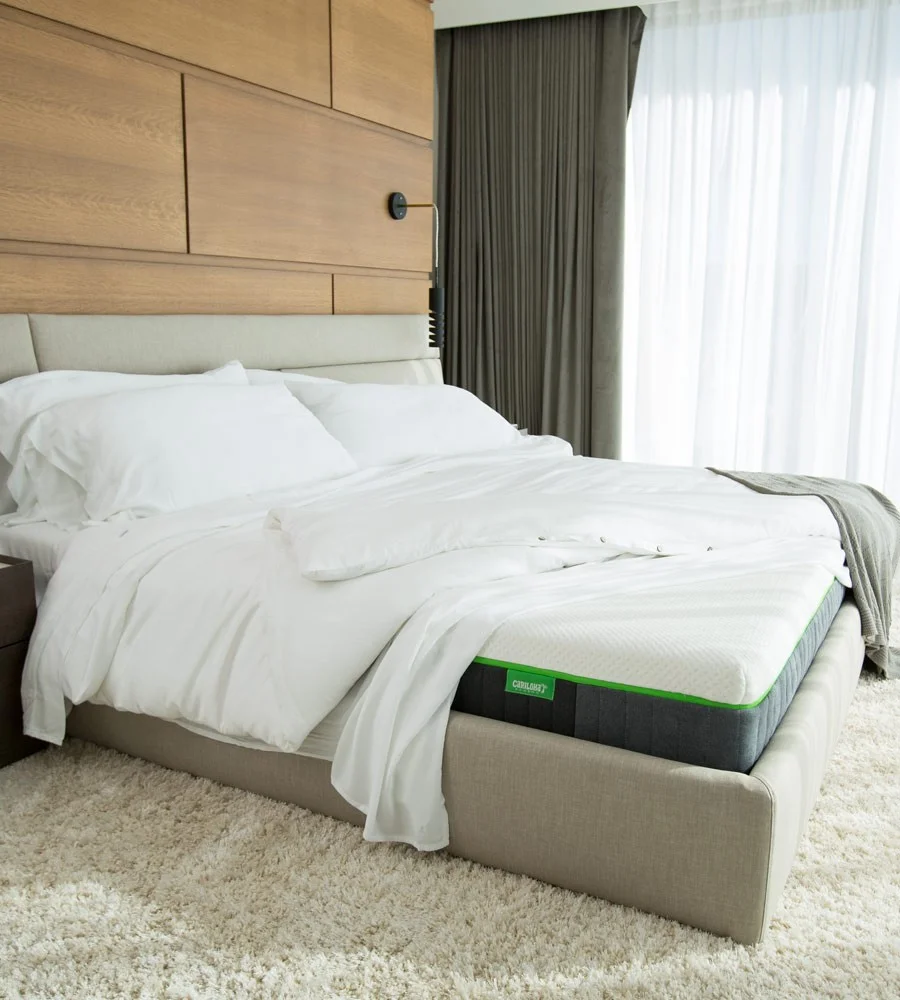 Cariloha offers high-quality bamboo products but at an above-average price. As for their mattresses, they have two different options: their Classic mattress and their high-end Resort mattress. Both mattresses include bamboo in two places, the cover (in the form of cellulose) and the top comfort layer (in the form of charcoal infusion). While the Classic mattress is lower priced and firmer, the Resort mattress is medium soft and offers additional pressure relief while providing zonal support to support the spine. While these mattresses are high quality, they are priced much higher than many alternatives, and there are some complaints about the need for more customer support.
Pros
High-quality bamboo beds infused in the top layer of foam and the cover.
Cons
Very high prices and some complaints about back support.
Price range: $849 to $2398.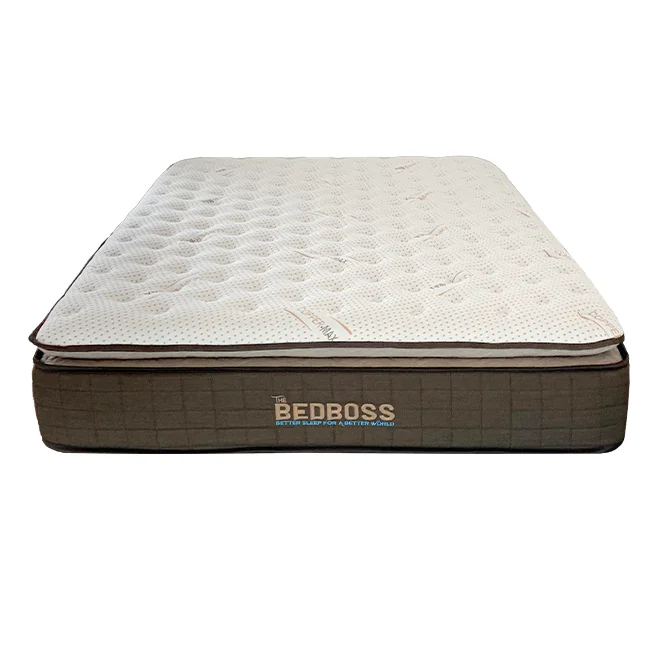 Bed Boss manufactures many mattresses, from memory foam and hybrid options to traditional spring designs. Its beds are high-profile and are priced higher than other options. Some of their beds also include bamboo cellulose in the cover layer. This provides a soft surface layer that absorbs moisture. Their beds offer a wide range of options, which customers appreciate. However, some complaints about the durability of some of their offerings.
Pros
Wide range of beds – some offerings with bamboo in the cover layer.
Cons
Some durability issues were reported by some sleepers. Expensive beds at times.
Price range: $469-$1605.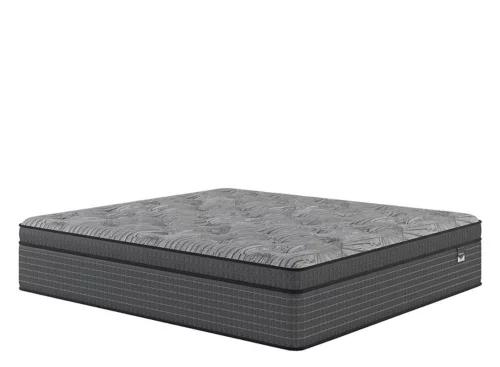 Acesleep Mattresses are an inexpensive seller that uses affordable foams. They use bamboo charcoal in the top comfort layer of their beds to diffuse heat away from the body and then have several supportive foams underneath. Most customers find these beds work well at first, but some recommend avoiding them due to the feel and durability of the products.
Pros
Bamboo-infused foams help diffuse heat away from the body.
Cons
Some issues with durability and feel.
Price: $477 to $877.
EzoBed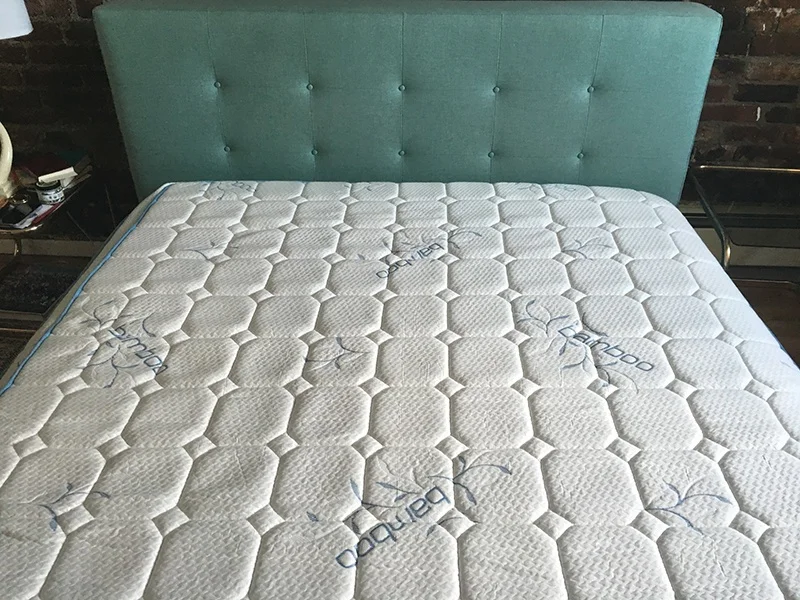 EzoBed's bamboo memory foam mattress offers a foam mattress with a quilted bamboo cover. Their mattress has three foam layers, including cooling gel memory foam in the top comfort layer. Customers are looking for a medium-firmness mattress at a very affordable price, and with soft bamboo viscose, this brand may be a contender. However, some may experience some durability issues and want more design versatility. Also, some thicker sizes may need to be in stock.
Pros
Very low prices for the materials used. There is a wide variety of thickness options.
Cons
Very low prices may mean that durability is a concern. Some sizes are out of stock.
Price range: $148 to $555.
Snuggle Pedic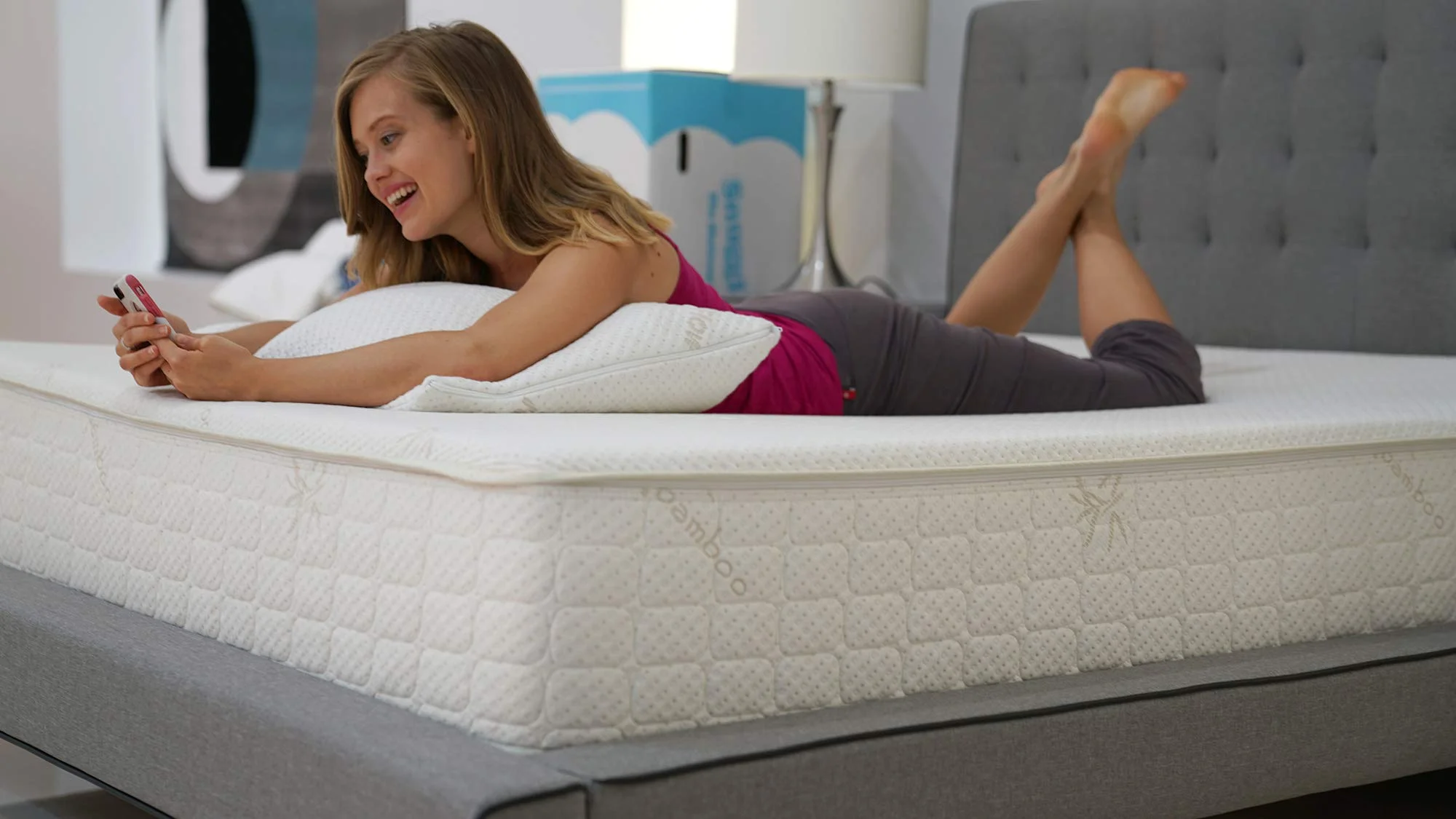 Snuggle-Pedic products are moderately priced and feature all-foam mattress designs. Its bamboo knit cover has a patented KoolFlow design that allows air to circulate freely. The successive layers are memory foam and high-density foam. While this mattress offers a medium-firmness profile that should provide a good amount of support for most sleepers, the price of the material is quite high.
Pros
The bamboo cover and perforated foams facilitate a relaxed, dry sleep.
Cons
The high price of the materials could be a concern. Some disagreement about the feel.
Price Range: $649-$1119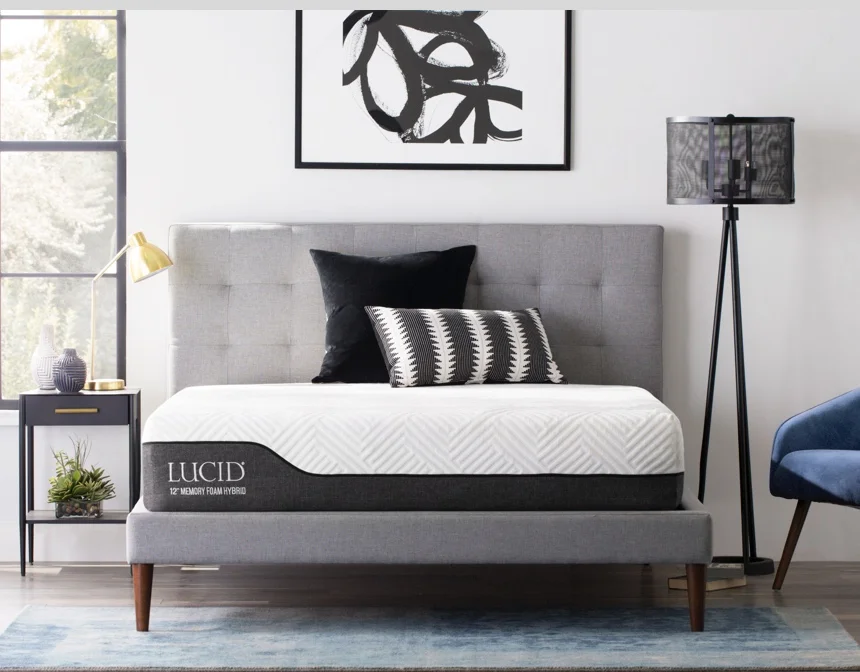 Lucid offers a wide range of mattress options, including latex, foam, and coil designs. When it comes to their bamboo offerings, they have some offerings that include memory foam infused with bamboo charcoal. These beds facilitate additional heat diffusion and have various firmness options to choose from. Price-wise, they are very competitive, but there is some disagreement on longevity. Some have experienced sagging at below-average longevity.
Pros
Bamboo charcoal-infused foams provide better cooling. Low prices and a wide range of firmnesses.
Cons
Reported durability issues cause some to avoid this option.
Price range: $119-$699.
Signature Sleep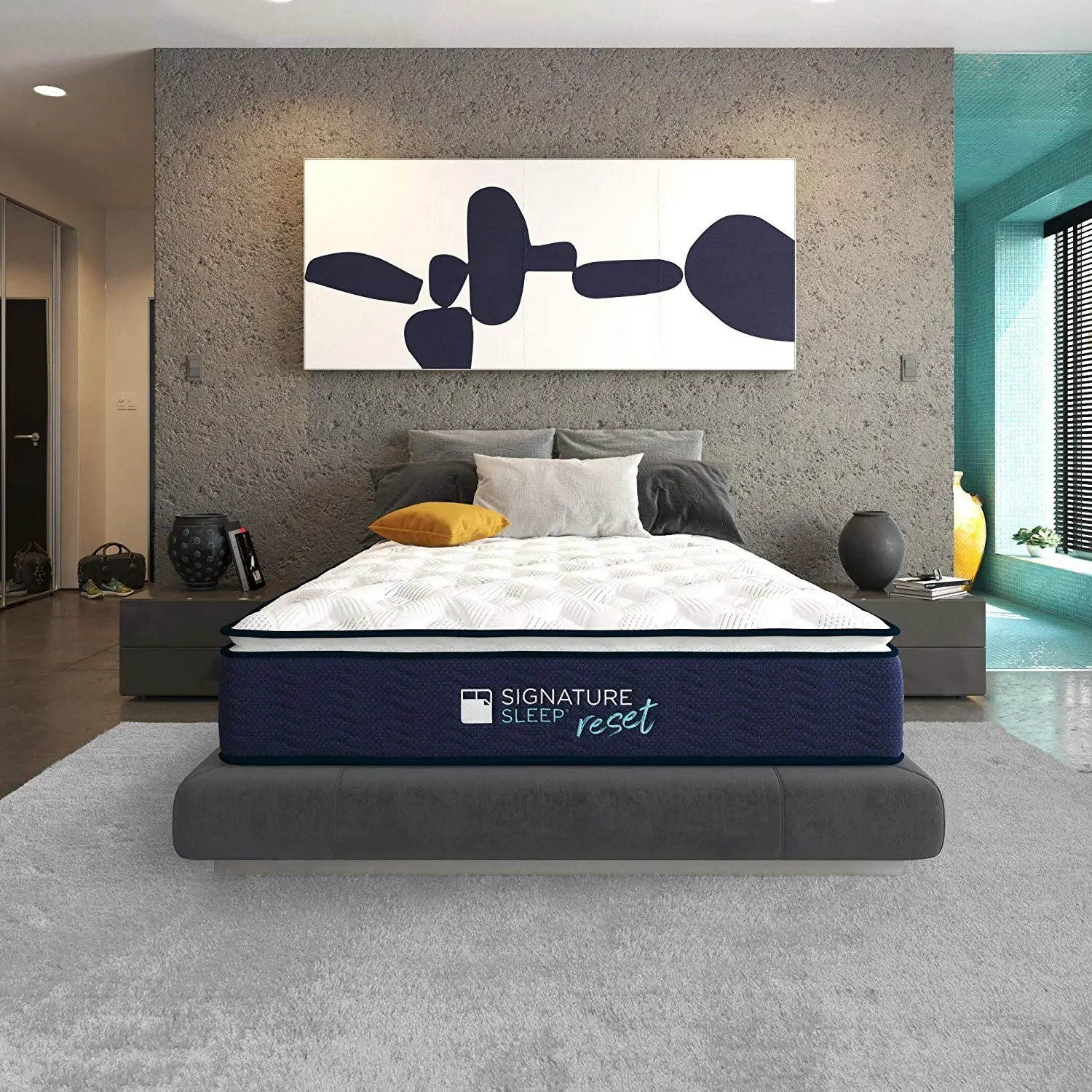 Signature Sleep is another low-priced brand. They offer a variety of foam and pocketed coil beds at various price points. Their bamboo offerings are in some of their higher-end options in their bamboo rayon covers. While their bedsreceive good reviews initially, there are some reported problems in the long run. Some customers complain about durability and rapid sinking issues, which may make some buyers want to avoid this brand.
Pros
Wide range of options at competitive prices. Some moisture-wicking bamboo rayon covers.
Cons
Durability issues reported by some customers.
Price range: $83 to $779.
What is the best mattress for back pain?
The best mattress for back pain is supportive and helps reduce pressure on the spine. A medium-firm mattress is often recommended, as it provides the correct balance of support and comfort. Look for a mattress that conforms to the body and helps to support the natural curves of the spine. Additionally, it is important to consider the material of the mattress, as some may be more supportive than others. A mattress with a breathable material can help keep the spine cool and reduce any discomfort. Ultimately, the best mattress for back pain should provide the support and comfort needed to help the body recover from aches and pains.
What is the best mattress for side sleepers?
The best mattress for side sleepers provides a comfortable level of support and cushioning. It should be firm enough to keep the spine properly aligned and provide enough cushioning to alleviate pressure points. A mattress with a softer top layer, such as memory foam or latex, is ideal for side sleepers as it will contour the body and provide pressure relief. Additionally, look for a mattress with a layer of cooling material or a breathable cover to help keep you cool and comfortable to ensure a good night's sleep.
When is best time to buy a mattress?
The best time to buy a mattress is typical during a mattress sale. Mattress sales occur throughout the year and offer discounts on the regular price of mattresses. It is important to keep an eye out for sales, as you can save significant money on a quality mattress. Additionally, shopping for a mattress during the middle of the week is best, as stores are less crowded, and you are more likely to get a better deal. Finally, researching different mattress types can help you make the best decision for your needs.
Conclusion
The best mattress of 2023 offers a range of features that can help you sleep better. It has the perfect balance of comfort and support, adjustable temperature control, and is made with advanced materials designed to last for years. Whether you're looking for a better night's sleep or to upgrade your current mattress, the best mattress of 2023 is worth considering.